Pink is a pale shade of red that is named after a flower of the same name.
Common pink, garden pink, or wild pink, is a species of pink-coloured flower in the family Caryophyllaceae.
Pink was first used as a colour name in the late 17th century.
According to surveys in Europe and the United States, pink is the colour most often associated with charm, politeness, sensitivity, tenderness, sweetness, childhood, femininity and romance.
A combination of pink and white is associated with chastity and innocence.
Hex code on mom2B stock: #FFC0CB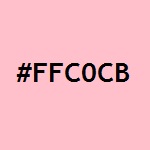 Showing the single result
Maternity Summer Dress

Maternity Summer Dress

Maternity Summer Dress

Flexible and very light.

Perfect for breast feeding and to wear after giving birth as well!

Eye-catching colours for any occasion party or every day wear.

Comes in Pink and Vermilion colours.

(See colour description here: Pink… See more info: